There are many reasons why couples need to postpone their wedding, not just Covid-19. Often times there are financial issues, illness or family bereavements or the arrival of a beautiful baby. Whatever the reason, making the decision to postpone is the hardest bit and once done it's time to see the positive again and get excited about your new wedding date!
Take the positive look at all this…. You now get to celebrate two wedding dates…your almost wedding (which if it was postponed due to Covid-19 you can think of creative ways to mark it at home, so you are not viewing it as a major negative) and your new wedding and who doesn't love another excuse to celebrate!!!

When sending out the Change the Date cards, make sure to prioritise those who might be travelling from abroad or along distance so that they can change their travel plans as soon as possible.
There are loads of ways and various text options to let people know about your new date. Have fun with it and bring the excitement back to you and your guests for your wedding day.
Depending on your budget or style you can send a change the date out by post or by getting a lovely PDF version from your printers and emailing it or texting it out. Many printers are still working away from home during the Coronavirus Pandemic so do get in touch with them, they will be delighted to be working on something positive for you.
Click on images below for links to suppliers. Feature Image above from Gilded-Lili Stationery
We are now in a new normal and as tough and hard as it is will have to work within the limitations being set on us and do the best we can to stay happy and healthy. Today I have some lovely fun, cheeky, and elegant options for all those who have had to postpone their weddings. So for our first option let's Roll with it 🙂 
WE'RE PUTTING OUR WEDDING ON ICE!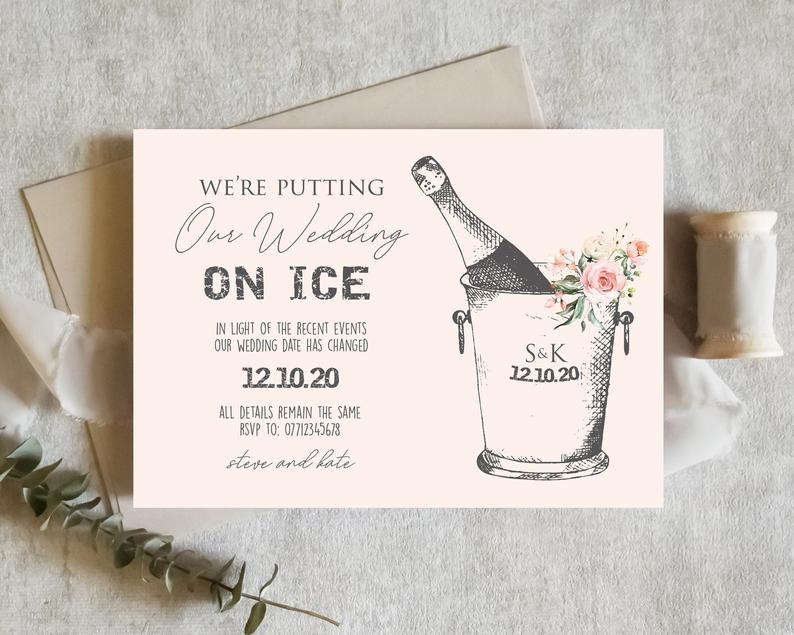 MAKING LEMONADE OUT OF LEMONS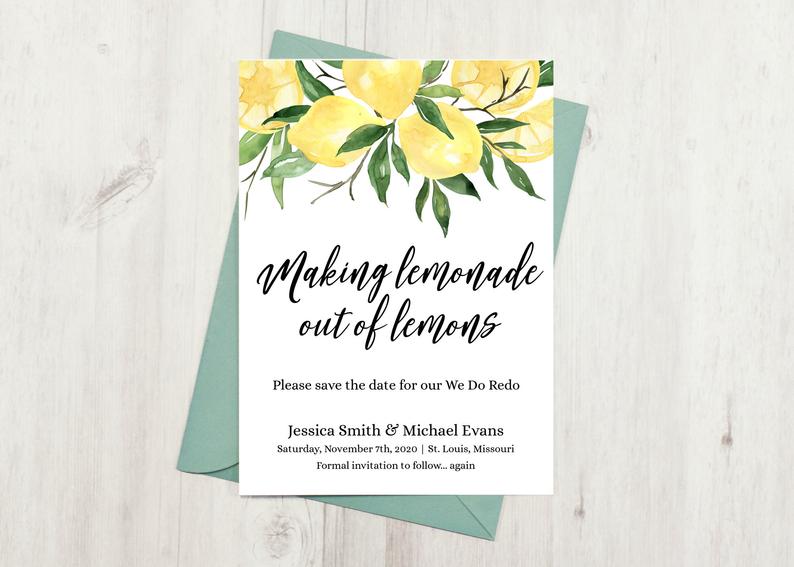 CHANGE OF PLANS, NO NEW DATE YET
DIGITAL WEDDING INVITATION DESIGN / DO IT YOURSELF
GREENVELOPE E-VITE / GREENER OPTION