Limerick's Sharon McMeel named Wedding Planner of the Year
Limerick's Sharon Mc Meel has been named Wedding Planner of the Year at the 3rd Irish Wedding Awards 2019 at the Crowne Plaza Hotel in Blanchardstown, Dublin at a black-tie ceremony, organised by Creative Oceanic. The country's finest wedding businesses and services gathered at the prestigious event to celebrate the winners of Ireland's most coveted annual wedding awards.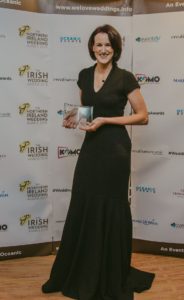 "I am thrilled to have won the Wedding Planner of the Year award and to hear my name called out was an incredibly proud moment for me. I am privileged to be able to work in an exciting and vibrant industry in Ireland and it is fantastic to be recognised for all the hard work you do at a national level," said Sharon. "2018 was a great year and I had the opportunity to work with some amazing couples helping them to truly enjoy their wedding day and I am really looking forward to what 2019 and beyond will bring."
The Irish Wedding Awards aim to recognise and reward those within the wedding industry that work towards making a special day perfect. Awards are designed to recognise the efforts of the caterer that provides the delicious reception meal, the DJ or band that adds the extra thrill to the atmosphere, or maybe the hair & makeup artist that made a bride to look and feel on top of the world on this special day. The Awards allow industry professionals to come together and show gratitude to those in the wedding industry.
Beginning her wedding career in 2003, Sharon Mc Meel has now been involved in hundreds of weddings and winning this new award is a testament to her professionalism and attention to detail.
Sharon's attention to detail offers peace of mind and she has been sought out to create one of a kind weddings that serve as backdrops for some of the most memorable moments of her clients' lives. Clients are drawn to her composure and discreet nature. She maintains cool and calm throughout the wedding process, ensuring her client's personality is well represented throughout the day. She often tells her couples to add their own individual touches to make it one of a kind. In 2017, Ireland AM presenter Ciara Doherty wed her long-term beau Richard Stearn in a lavish Spanish ceremony just outside Barcelona and Sharon was called upon to organise every aspect of the day.
An award-winning businesswoman with a reputation for excellence, Sharon Mc Meel is in demand as a speaker at wedding and business conferences, and as a consultant for venues and hotels. Sharon is certified by the Gay Wedding Institute in America and features frequently on local and national Irish radio stations including 2FM, was part of the Bride Guide Series which ran on Ireland AM on TV3 and is a regular contributor both in print and online.
For more info about Sharon visit www.sharonmcmeel.ie.