With our favourite bridal designers releasing their 2015 collections we've vigorously chewed through the lace and tulle skirts to get you up to speed on the latest trends in the bridal world.
Collars
The fashion world must have been inspired by my Throwback Thursday Series as it's out with the new and in with the old. We're seeing a comeback in collars and high necklines with most designers opting to join in on the trend including Christos Costarellos, Gemy Maalouf and Jenny Packham. The look adds instant drama to your dress and elongates the neck for a sophisticated look.
Here's one of my favourite looks from Galia Lahav's 'La Dolce Vita' 2015 Collection: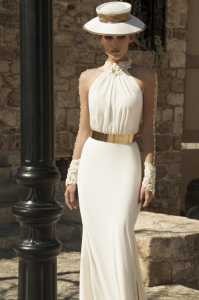 Off the shoulder
Off the shoulder dresses are also being seen across the board in Spring 2015 collections. This trend is timeless and so elegant. Carolina Herrara and Oscar de la Renta are loving this romantic look just like – here's a look at 'Carmen' from Carolina Herrara's Spring 2015 Collection which oozes class and elegance with the combination of the off the shoulder and laces look.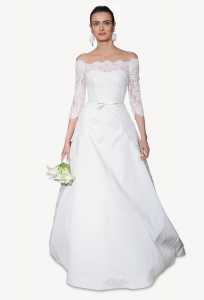 30's Glam
30's glam is upon us and there's no getting away from it. Whether it's the knock on effect from the Great Gatsby or just our love for old Hollywood it will be filling up all church aisles soon. The look is glamorous without being over the top letting you be a movie star too on your big day. Rosa Clara, Monique Lhuiller and Tara Keely are just a few incorporating 30's glam into their new collections.
Monique Lhuiller opts for a simple flowy romantic look in this 30's inspired dress: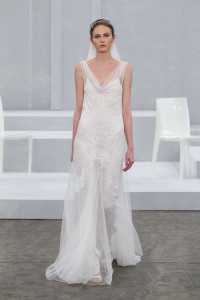 Capes
Don't panic, it doesn't mean you're going to have a superhero themed wedding when I say capes. Instead they can be the perfect pairing for your dress. Carolina Herrara and Alberta Ferretti are leading the way on this trend in my own opinion. Here's a dramatic look from Ferretti's Bridal Forever 2015 Collection perfect for a 'Boho Chic' bride: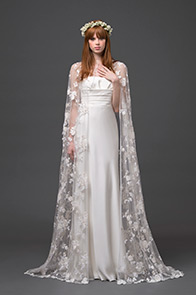 Tulle Skirts
We saw that A-Line dresses were extremely popular in 2014 with brides loving the simple elegant look however tulle skirts are back in a big way with almost all the well known designers including Vera Wang and Monique Lhuiller donning them in their collections.
Here's a look at one of the many dresses following the trend in Vera Wang's 2015 Collection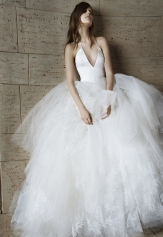 By Caroline Whitsell
Images via:
Bride CA: http://www.bride.ca/wedding-ideas/index.cfm/2014/4/29/Spring-2015-Wedding-Dress-Trends
Galia Lahav : http://www.galialahav.com/wedding/la-dolce-vita/
Carolina Herrera : http://www.carolinaherrera.com/newyork/en/bridal/spring-2015/collection/11
Monique Lhuillier : https://www.moniquelhuillier.com/collections/tags/wedding/collection/spring-summer-2015/content
Alberta Ferretti : http://worldof.albertaferretti.com/en/bridal-forever-2015/
Vera Wang : http://www.verawang.com/EN/wedding/bridal-collection/spring-2015