One of the most exciting time for us ladies is when the new collections from our favourite designers come out! We decided to labour through countless top designer collections to check out the hottest trends and keep you up to date on all things Spring 2016!
Carolina Herrera
Always elegant, Carolina Herrera's Spring collection offers a wide range for all brides. Mermaid style seems to be dominating this spring and we also get to see her use feathers! My favourite from the collection has to be this dress which is classy but has that edge with cut out detailing on the side (A trend also seen in Vera Wang)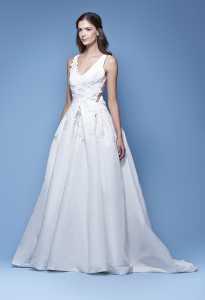 Vera Wang
Always one of the designers to make us 'Oooh' and 'Aaahh', the Vera Wang Spring 2016 does not fail to impress! This collection is very elegant mermaid style dresses, tulle and sheer material making an appearance. For the more adventurous bride this halter neck dress will certainly get a reaction!
Monique Lhuillier
The Monique Lhuillier collection offers, in my opinion, the biggest range for brides this Spring including shorter dresses. Lace stands out as the biggest trend among this collection however tulle skirting and feathers also sneak their way in, following other designer collections. I absolutely adore this piece from the collection which granted may not be everyone's cup of tea but it's definitely one of my favourites from the whole spring season!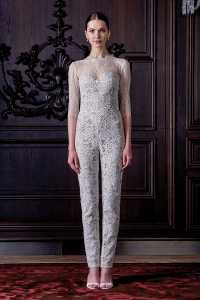 Oscar de la Renta
Oscar de la Renta is one of the biggest names in Wedding dress designers and it's easy to tell why. Similar to Monique Lhuillier, the collection features shorter dresses, feathers and lace. My top pick of this collection is a strapless mermaid style dress with lace detailing. The added pop of colour makes it the perfect spring dress in my eyes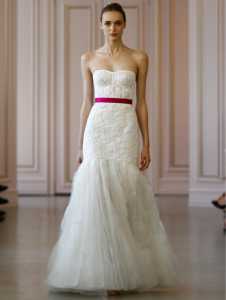 Marchesa
The Marchesa Spring 2016 oozes elegance and class with some pieces almost Grecian! Beautiful embroidery, sheer material, lace, feathers and shorter options are all present but my favourite piece from the collection has statement written all over it! Check out this beautiful strapless dress with bold yet delicate tulle skirting, perfection!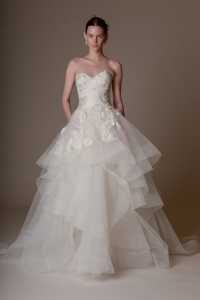 So what's your favourite trend from the Spring 2016 collection? Make sure to let us know by using the hashtag #sharonmcmeel
By Caroline Whitsell
Images: