So as the festival season and our busy wedding season collide in a colourful bang our minds got to thinking about having the best of both worlds!
For music lovers it's the ultimate party so sit back and let yourself be inspired
Your invitations are your guest's first glance at your big day and what to expect. Make sure they fall into the festival theme. Why not style them like VIP passes? It may look daunting but its simple just print, laminate and punch a hole near the top. Lanyards can be bought online or instead you can buy ribbon and simply tie it on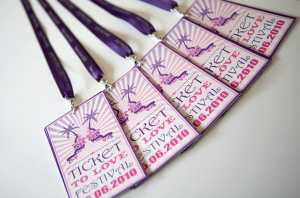 People sometimes overlook wedding signage and just think of an A4 page stuck to a pole pointing out the way to the far off church in the middle of nowhere. Get creative and draw up a wedding 'line-up' that you are the headliners off. You could use some plywood or maybe get your hands on a wooden crate but really any type of wood will do. Grab some paint and have fun with it! Remember that guests love to feel in the know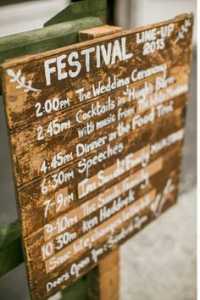 When a lot of us think of festivals we naturally think of a muddy mess so be a prepared bride and have stylish wellies on standby. Noone wants to get stuck in the grass in stiletto heels and not to mention what a great photo op it will be with the bride and the bridesmaids looking festival ready!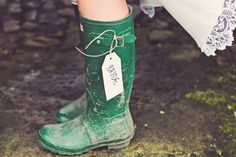 A cute idea for favours for guests are their very own wristband to remember the day. Whether you want silicone wristbands or textile with or without printing is entirely up to you. A lot of companies can make them such as Adband or Notonthehighstreet.com maybe you could embrace the 'loom band' craze and make them yourself!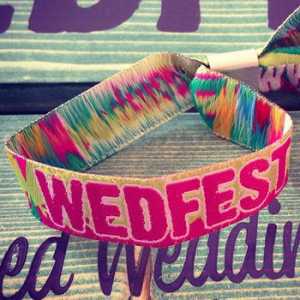 Why not incorporate your festival theme into the food too? Whether it's burgers, hotdogs, popcorn and whatever else you could think of look into getting a cartering truck. Check out http://www.eventfood.ie/ for some inspiration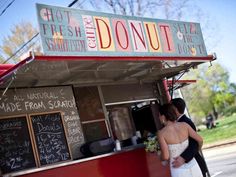 So get your flower crown on and have a fun filled day with your nearest and dearest and dance the night away as if you're in Stradbally!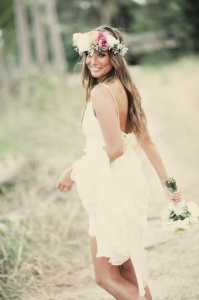 For more festival wedding ideas check out our Pinterest Page
– by Caroline Whitsell
Images:
http://www.pinterest.com/pin/3870349654948761/
http://www.pinterest.com/pin/3870349654948744/
http://www.hunter-boot.com/
http://www.pinterest.com/pin/3870349654948758/